Marble is an excellent choice for interior design and finishes, however only granites and stones are suitable for exterior applications. Dark marble will normally fade in sunlight and almost all marble will lose a polished finish over time. that's why we may use hard marbles for external but with bush hammered, chiselled or sand blasted finishing to have natural look and durable look . we do cladding for your external columns by our designed stones to look elegant and with affordable cost.
Some of our samples related to Marble Exterior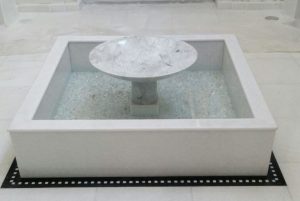 Carrara Marble fountain dish Dia:80cm, pool 161x161cm with mosaic flooring.
Read More »
Are you interested to view more of our Marble Interior samples